Tired of pets ruining your favorite new furniture?
Use our Sticky Scratch Protectors for easy and unnoticeable protection today!  
Train your cat, ease their boredom and protect your furniture for good. Our Anti-Scratch Protectors come in 9x18 Inch sheets that can be cut down in size and reused all around your house!
*Not available in stores

 ✔️ TRAIN YOUR PET INSTANTLY: Apply our premium protectors to the places your cat scratches the most. They will learn where they can and cannot scratch! The sheets are packaged flat & easily pliable on any corner and the sheets will provide more than enough cover surface for cat scratching prevention..
✔️ INSTALL & FORGET: Stick the cat furniture protector covers and let them do the job for you. The cover will annoy your kitty so much, that you won't see the little pet near your furniture any time soon. Stop the cat claw damage on your sofa with the Sticky Scratch Protector – non-toxic, 100% safe tape. The product is residue-free and does not harm the furniture after removal. Protect your furniture & keep your cat's claws healthy and safe.
✔️ KEEP FURNITURE LONGER: Keep your furniture in perfect conditions and enjoy your favorite spot in the house for longer. Training your cat with our Anti Scratch Protectors may be the best investment in protecting your furniture. The protectors can be applied on any upholstered couch, chair, doors, carpet, etc
✔️ UNNOTICABLE PROTECTION: Our scratch protectors are 100% transparent so you can place them where your pets scratch the most.
✔️ REDUCE STRESS: Stop stressing about constantly watching your animal, with the fear that they will ruin your new or favorite piece of furniture. 
✔️ EASY TO APPLY, REUSABLE: Simply peel the sticky covering off and apply to the places your cat scratches the most. Once they stop using the spot simply remove the protector and reapply as needed. 
✔️ APPLY ANYWHERE*: Our protectors can be placed on leather, fabric, polyester, or just about every material. Place them where they are needed most and remove them with ease. *Not recommended on faux or real leather.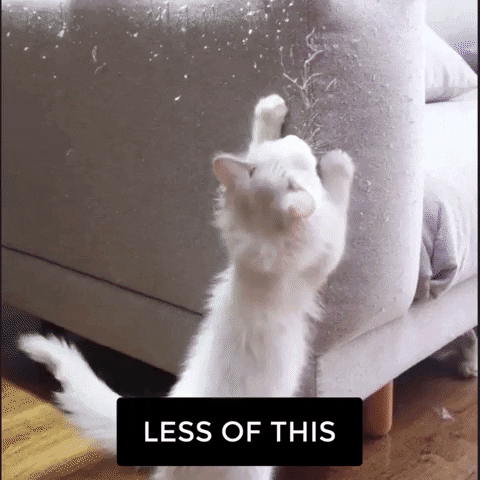 Package includes: 
x2  9

x18" inch 

Sticky Scratch Protector Sheets 
or
x4 9x18" inch Sticky Scratch Protector Sheets